Professional power washing in Southington, CT, is an excellent investment! Power washing removes damaging dirt, mold, and storm debris from outdoor surfaces. Additionally, high-quality pressure washing also cleans away soot, pollen, and other irritants. To ensure good results, check out 15 professional tips for power washing around your property.
1. Know What You Can Clean With Power Washing in Southington
Power washing is not good for every outdoor surface! Aged glass is especially brittle and prone to breakage. In turn, even low-pressure washing might crack or even shatter windows and glass doors. It's especially vital to use caution around painted materials, soft plastics, and wood.
2. Brush Away Debris and Dust Before Power Washing
Removing debris means less risk of mess during the washing process. You might also expose areas needing repairs, holes in siding to avoid, and the like.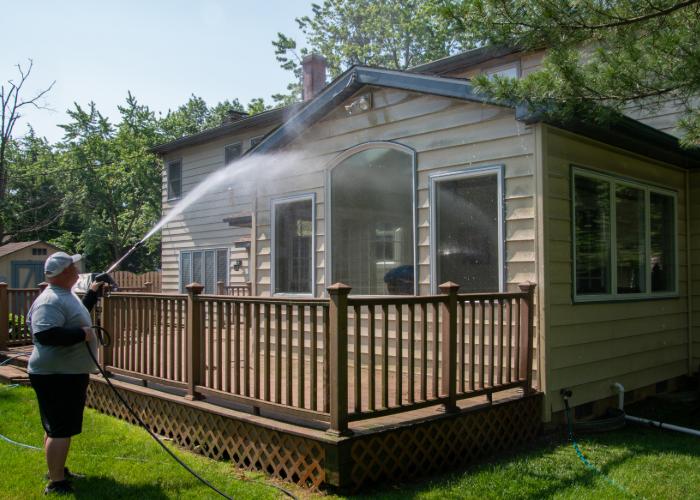 3. Check for Needed Cleansers
Not every power washing job needs detergent. One, detergents cause materials like wood to dry out. Two, power washing alone often removes thick dirt from various surfaces. In turn, you don't need to waste money on unnecessary detergents.
4. Know When to Power Wash
Not every day is a good day for power washing! Obviously, rain and high winds can interfere with your work. Additionally, hot sunlight might dry out detergent before you can rinse it away. To that end, choose a mild weather day for your pressure washing project.
5. Know Your Nozzle!
Power washing equipment includes various nozzles, to control spray pattern and concentration. A wide nozzle is excellent for larger surfaces, such as exterior walls. Conversely, a narrow nozzle offers a concentrated spray, for roof eaves and faraway surfaces.
6. Always Test Your Work Before Continuing
It's easy to damage many materials with power washing! Soft wood and painted surfaces are especially prone to etching, as said. To that end, always test a hidden or unobtrusive area before continuing your pressure washing.
7. Know the Difference Between Pressure and Power Washing!
Pressure washing uses pressurized water. However, power washing specifically refers to using hot water during cleaning! Although both methods offer excellent results, note that hot water tackles oil and grease. In turn, rent power washing equipment for cleaning motor oil, spilled grease, and the like.
8. Avoid Using High Pressure for Stubborn Dirt!
When you hit stubborn dirt that just doesn't want to come clean, avoid increasing pressure! Added pressure is more likely to damage a surface than clean stubborn dirt. Instead, add or switch cleansers for better results.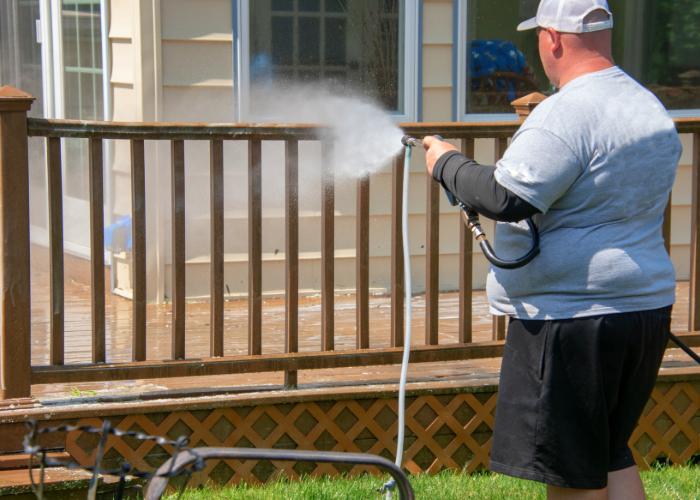 9. Cover Areas to Avoid, Especially Electrical
Homeowners often assume they can just wash around windows, light fixtures, and electrical outlets. However, this is a surefire way to damage those items! Instead, cover any areas you want to avoid, especially electrical outlets and fixtures. This simple step will help avoid shock and property damage while pressure washing.
10. Cover Landscaping and Other Outdoor Features
Along with areas you want to avoid, cover landscaping and outdoor features as well! Messy splatter risks damaging flowerbeds, shrubs, and other landscaping. It's also easy to scratch and etch patio furniture, fountains, and other such features.
11. Angle Your Power Washing Wand
When power washing, avoid aiming the wand directly at a surface. One reason to angle your wand is that direct pressure risks damage. Two, an angled wand lifts dirt more readily! Work from surface edges and "lift" the dirt and grime rather than spraying water right at it.
12. Keep the Wand Moving as You Work
Along with direct spray, holding the wand over a surface also risks damage! Moving the wand while you wash means less risk of etching. Also, this helps dissolve and dislodge dirt and grime, for a more effective clean.
13. When Washing Walls, Start From the Bottom Up
When power washing exterior walls, start from the bottom up. This simple step allows you to dislodge more dirt and grime. Again, keep the wand moving as well, for maximum effectiveness.
14. Rinse Quickly When Pressure Washing
Work in small sections when pressure washing and rinse quickly. A quick rinse prevents detergent and dirty water from drying onto a surface. In turn, you'll enjoy a more thorough clean overall.
15. Ensure Safety When Power Washing in Southington
Always ensure safety when power washing! Never aim the wand at people or pets, as this risks serious injury. Also, wear closed-toe shoes or boots, safety goggles, and heavy work gloves. This will ensure your safety while working the power washing wand.
Southington Power Washers is happy to supply these pro tips for power washing in Southington CT to our readers. Hopefully you found it helpful! To ensure a thorough job and your safety, call our Southington power washing contractors. We offer FREE consultations and price quotes and guarantee customer satisfaction. So, what are you waiting for? Your property won't wash itself! Call us today for your no-cost, no-obligation quote.