Homeowners often find themselves asking, is power washing bad for your house? This is a fair question, as high-pressure rinsing and harsh detergents can damage siding, brick, and other materials. On the other hand, layers of thick dirt, mud, gritty debris, and other residues also risk property damage! Additionally, irritants like mold, dust, and pollen create a very unhealthy and unpleasant outdoor environment.
With this in mind, homeowners might consider some vital details about pressure washing including its pros and cons. You can then discuss this information with a pressure washing contractor near you as needed. In turn, your property will look its best and be in excellent condition year-round.
Is Power Washing Bad for Your House?
The short answer is that power washing is bad for your house when done incorrectly! However, expert services actually protect a home's exterior surfaces from long-term damage. Additionally, professional pressure washing removes bothersome irritants, storm debris, insect nests, and other dangerous materials.
If you've been putting off pressure washing for your home, assuming it's dangerous or damaging, you might note its benefits. You can then decide the best choice for ensuring your property is clean and pristine and looking its best year-round.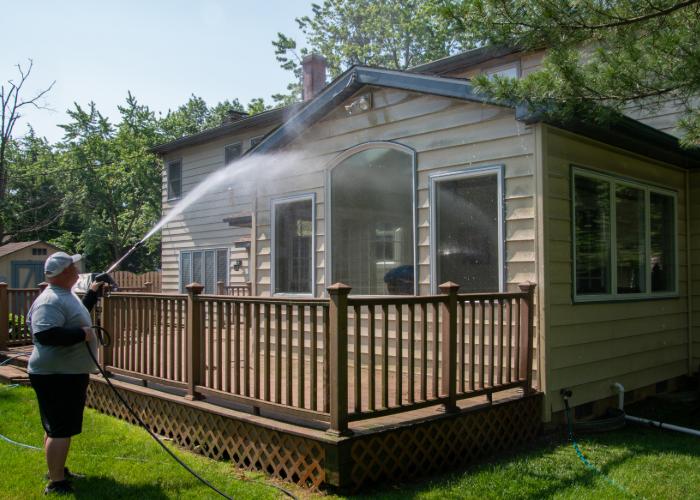 Power washing benefits for your house
Note some power washing benefits for your house and surrounding surfaces. However, it's vital that you keep reading before you head out to rent pressure washing equipment! You'll enjoy these benefits only if you leave needed power washing to the professionals.
Power washing removes grass clippings, mud, and other materials that risk long-term stains.
Pressure washing ensures painted siding, brick, stained concrete, and other materials look like new. This service is also typically cheaper than repainting and other touchup services!
Always choose power washing before you decide to repaint or otherwise revitalize surfaces. Professional pressure washing is the best choice for removing dirt, dust, and other residues. In turn, your fresh paint, stain, or other coatings will look their best and last as long as possible.
Exterior power washing removes pollen, dust, soot, air pollution residues, and other irritants. In turn, you'll breathe easier when outdoors.
Washing away mold, dust, and other irritants also means fewer bothersome odors outside your home.
No home looks appealing when covered in layers of dirt and grime. No matter your property's size, architectural style, or other details, it needs regular power washing! Without consistent cleaning, your property can look rundown, dingy, and dull.
What areas of a property need power washing?
Now that you know more about power washing benefits, consider what areas around your property might need this service. After all, your home's exterior walls aren't the only spots that might get dirty and dingy over the years!
Regular roof washing removes storm debris, mold, algae, and other buildup. In turn, you reduce the risk of losing shingles and tiles while improving overall curb appeal.
Homeowners should consider regular patio and pool deck power washing services. Sand, silt, mud, and other debris often creates slippery surfaces under foot! Regular pressure washing means a safer environment and more attractive space around your property.
Driveway and walkway pressure washing protect concrete, brick, and other surfaces from long-term damage. Additionally, since these are often the first spaces seen outside your home, cleaning them increases curb appeal instantly.
Gutter cleaning is vital for protecting a property against water damage. Clogged gutters let water wash over their sides and collect around a property's foundation. This risks cracks, leaks, and other damage. On the other hand, clean gutters protect a property against this risk.
Never attempt to clean wood decks and fences on your own! Too much pressure or the wrong detergents might scratch and etch those surfaces. However, professional cleaning removes damaging mold and mildew.
Note, too, that your pressure washing contractor might suggest areas of your property needing regular cleaning. He or she can inspect various areas you might overlook yourself and then note if certain spots need more consistent attention!
Is Power Washing Bad for Siding?
Power washing is not necessarily bad for steel or wood siding. As a matter of fact, it can remove grass clippings, mud, and other materials that risk stains. Also, pressure washing cleans away pollen, mold, dust, and similar irritants.
However, note that siding can develop cracks and gaps over the years. In turn, pressure washing might mean water damage to interior framing and other materials. Additionally, too much pressure can risk denting metal siding or otherwise damaging wood surfaces.
To avoid these risks, always use a professional for exterior siding power washing. He or she will typically cover over damaged areas, keeping out damaging water. Also, a pro knows the right pressure to use for wood, aluminum, and other materials. Consequently, your exterior siding will look its best while enjoying a thorough washing, from top to bottom!
How Often Should You Power Wash Your House?
As with interior cleaning, it's vital that you power wash a house as often as needed for proper cleaning! Some might suggest annual pressure washing while others say that you shouldn't wash a house more than twice per year. However, this schedule can vary according to your area and other such factors.
Do you cook outdoors regularly? If so, you might notice thick layers of smoke, soot, and ash clinging to exterior surfaces. Power washing every few months removes this damaging material and ensures a clean, pristine property.
Sand, silt, and other gritty debris often cover homes near beaches or desert areas. Frequent power washing removes that debris and ensures a clean property.
Pollen, dust, mold, and other debris might bother persons with asthma, allergies, and similar health concerns. Frequent power washing removes these irritants and their bothersome odors, for easier breathing overall.
If you entertain in your outdoor spaces often, you might appreciate more frequent power washing! Regular pressure washing ensures a clean and safe patio, pool deck, or other such surface outside your home.
Homeowners should also consider pressure washing on an as-needed basis. For example, heavy storms often deposit debris onto residential roofs. Power washing cleans away that debris, protecting shingles and tiles while ensuring a pristine property.
Also, consider power washing before putting your home on the market. Thorough pressure washing keeps a property looking its best and can attract potential buyers. Removing mold and other irritants also reduces bothersome smells that would otherwise turn off those buyers!
Cleaning the Exterior of Your House Effectively
In many cases, a simple garden hose with a pressure washing nozzle can offer a thorough clean. Plain water applied at a slight pressure often removes sand, dirt, and other simple residues from exterior surfaces. Additionally, hosing down a deck or patio can also improve its overall appearance instantly!
However, for added cleaning you might mix a 70-30 water and white vinegar solution and apply this to exterior surfaces. To kill mold, mildew, algae, and other irritants, add some bleach to this mixture. Allow this solution to sit on especially dirty areas, to break down debris as needed. A light rinse can then clean away all harmful residues.
If this simple household mixture doesn't offer an effective clean, it's time to call the professionals! Cleansers used for soft wash systems offer a very effective clean, dissolving thick dirt and grime. Additionally, professionals often have access to scrub brushes used for cleaning pool decks and patios.
Do You Need Soap to Power Wash a House?
In short, soap makes quick work of cleaning dirt and grime from a home's exterior surfaces. On the other hand, letting soap dry out or using too much is more damaging than helpful! This is especially true of wood surfaces, where soap might leave behind sticky residues and unsightly stains.
However, the right soap ensures quick, thorough cleaning. For example, hydrochloric acid is excellent for cleaning brick. This soap removes stains and other debris from brick walls while also restoring their color. A homeowner can also use dissolved dish detergent or ammonia for a thorough clean.
Note, too, that bleach-based cleaners or diluted bleach help kill mold, algae, and other growth. Simply washing away mold doesn't keep it from returning! Bleach cleansers kill spores and roots, ensuring a thorough clean around your property.
That being said, a homeowner must ensure they don't allow soapy cleaners to dry out while washing their house. This leaves behind sticky residues that attract more dirt and dust than before! One way to avoid this issue is to work in small sections, rinsing right after washing. Two, don't work on a hot, sunny day, as harsh sunlight dries soap quickly.
What Should I Spray My House With Before Pressure Washing?
First, spray your house with lots of water before pressure washing, to remove dirt and grime. Second, use a mold killer or diluted bleach, to kill and remove mold, mildew, and other growth. These simple steps help ensure you're not just pushing dirt and grime into a home's exterior surfaces.
Also, take the time needed to wash around areas you might overlook. This includes underneath roof eaves, around window frames, and near obstructions where cobwebs might develop. The more surface dirt you remove, the more effective your pressure washing services!
Should You Power Wash a House in Spring or Fall?
In truth, both spring and fall are excellent choices for power washing a house! Both typically offer mild weather without harsh sunlight or heavy rains. Also, it might be more comfortable to pressure wash a house during milder weather versus harsh summer months.
To decide the right choice for your property, consider a few tips and pointers. One, if you entertain during summertime, wash your home before opening the patio. Two, if storms move through your area during summer, power wash in fall! This work helps remove storm debris, so your home is clean and protected from damage.
On the other hand, you might consider power washing as it's needed for your property individually. For instance, you might cook outdoors and sit outside to smoke cigarettes during summer months. In turn, smoke and soot might coat your home's exterior walls and build up during that time. In that case, schedule power washing in the fall to remove all that unsightly residue.
Conversely, some areas experience strong storms during fall and heavy snows throughout winter months. Consequently, springtime power washing becomes vital! This service removes that debris and ensures a clean roof and exterior walls of your home.
What Should You Not Do When Pressure Washing?
The best way to avoid damage during pressure washing is to call a professional! However, if you're looking to tackle this project yourself, note some tips and tricks for getting the job done right.
Never underestimate the power of a pressure washer nozzle or wand. Power washers can dent siding, chip brick, shred screens, and shatter glass! Use the lowest pressure setting when starting out and adjust it as you go along, if needed.
Always keep the nozzle several feet away from a surface. Remember that you might not see scratches and etching as you work! In turn, keep the nozzle a safe distance from decks, walls, and other surfaces, to avoid damage.
Dried detergent can leave behind streaks while also attracting more dirt than before you washed. Consequently, work in small sections and rinse as you go, to avoid detergent residues.
Don't assume all nozzles are alike. A wider nozzle lets thick, soapy water through while a narrow nozzle means added pressure. Get familiar with each nozzle before working so you choose the right one for the job at hand.
Above all, never assume that all cleansers are the same or that every surface needs identical cleaning. For example, soft wood etches more easily than brick. Choose cleansers based on surface materials and adjust your cleaning methods as you go.
Southington Power Washers is happy to help answer the question, is power washing bad for your house? Hopefully you found this information helpful! For expert cleaning on your property, call our Southington power washing contractors. We'll start you off with a FREE quote for your pressure washing needs. To find out more, contact us today.