When was the last time you scheduled gutter cleaning for a Southington, CT, home? If you're not sure or know it's been years, it's time to make that call! Additionally, while gutter cleaning is vital for any property, homeowners should leave this work to the pros.
Before you go another year without scheduling needed gutter cleaning, check out why every property needs clean gutters. Then, discuss this service and other exterior cleanings with a Southington power washing contractor as needed. In turn, your property will be clean and pristine, and as protected as possible.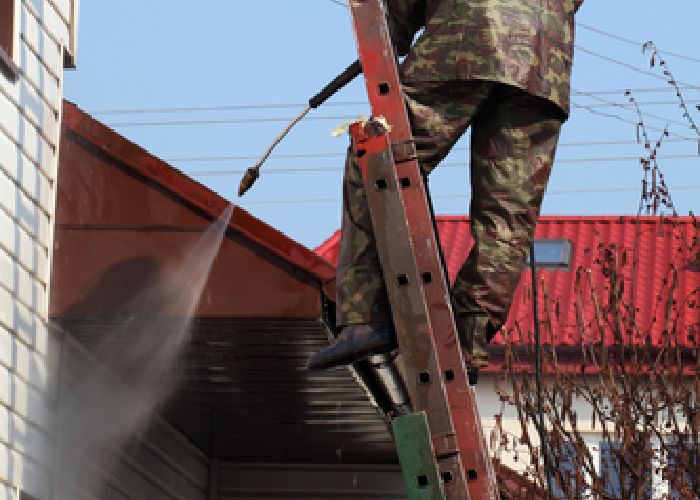 Is gutter cleaning in Southington, CT, worth the price?
Why is gutter cleaning for a Southington, CT, home so vital? First, note the purpose of gutters, to capture rainwater and melting snow coming down a roof. Second, gutters direct that water to nearby downspouts and then away from the house itself.
This process protects exterior walls and foundation concrete from water damage. Without gutters, rainwater and snow washing over a home's sides might soften brick and risk rusted siding. Additionally, that water then pools around a home's foundation, also risking water damage and eventual leaks. Also, water running down exterior walls and windows often leaves behind unsightly streaks and dirty residue!
While gutters protect a home from costly damage, clogs and built-up debris keep them from working effectively. Clogs allow water to collect in gutters so that it then washes over their sides. Also, roof materials absorb standing water, risking damage. Water also means mold growth and can attract unpleasant insects!
Regular gutter cleaning for a Southington, CT, home, avoids these risks, ensuring gutters are clean and clear. Also, a power washing contractor can typically clean gutter undersides. This service removes unsightly "tiger stripes" or dirty streaks from the gutters. Your property is then protected against damage and looks its best!
Do I need to hire a professional for gutter cleaning?
Property owners should avoid DIY gutter cleaning and invest in a professional gutter cleaner when needed. One reason for this is that professional washing ensures a thorough clean. Two, a power washing contractor avoids messy splatter while cleaning a home's gutters. Three, a pressure washing pro makes quick work of needed gutter cleaning, roof washing, and other services.
Also, property owners should avoid getting onto ladders, especially when trying to manage cumbersome power washing equipment! Falling from a ladder risk serious injury and can mean damaging property as well. Additionally, note that a power washing company should have insurance. In turn, you won't be liable for repair costs in the unlikely event that your property gets damaged during cleaning.
Above all, note that gutter cleaning is often more difficult than homeowners realize. Cleaning built-up sludge and thick mud can mean lots of scraping and scooping. Moreover, spraying pressurized water onto the roof during gutter cleaning can strip shingle granules and dislodge shingles and tiles. To avoid these risks, leave this work to professional power washing contractors!
How often do you need Southington gutter washing?
Most homeowners find that annual gutter washing provides sufficient cleaning for their property. However, you might schedule gutter washing more often if your home sits under large, mature trees. Those trees probably drop lots of leaves, twigs, moss, seeds, and other debris onto your home's roof. Consequently, that debris likely builds up in the gutters, which then need more consistent cleaning.
Also, consider more frequent gutter cleaning if you suffer from allergies, asthma, or similar concerns. Power washing removes dust, pollen, insect droppings, and other bothersome irritants from inside and around gutters and roof eaves. Additionally, gutter cleaning helps reduce the risk of mold and mildew along your home's exterior. You'll then enjoy easier breathing when you invest in regular gutter cleaning for your home!
Above all, homeowners should schedule needed gutter cleaning as often as needed to protect their home! If you notice debris in the gutters, call a professional no matter how long it's been since your last cleaning. Also, you might consider exterior wall washing, roof cleaning, and other power washing services as well. Expert pressure washing removes damaging and bothersome materials from your entire property, keeping it clean and protected.
Southington Power Washers is happy to provide this information about gutter cleaning for a Southington, CT, home. Hopefully, this information helps explain the need for gutter cleaning and washing for your home. If you're ready for expert exterior cleaning, call our Southington power washing contractors. We offer FREE consultations and price quotes for your pressure washing needs. Above all, we guarantee customer satisfaction with every project. To get your property started, give us a call today.