How often should you pressure wash your house? This is an excellent question, as power washing improves curb appeal and protects against damage. On the other hand, improper washing techniques and tools can etch and scratch various building materials. You also don't want to pay for services around your home unnecessarily!
With this in mind, check out some quick reminders on when to schedule residential pressure washing. Then, discuss your property's needs with a power washing contractor. They can also recommend an effective schedule for keeping your home clean from top to bottom!
How often should you pressure wash your house?
Most contractors recommend pressure washing a house at least annually. Yearly power washing removes most dirt, dust, mud, and other debris. Also, annual power washing can address mold and mildew, eliminating lingering odors.
However, homeowners should consider more frequent residential power washing in some cases:
If you have allergies or sensitivities, you might consider power washing more than once yearly. Pressure washing cleans bothersome dust, pollen, mold, mildew, air pollution residues, and other irritants. You might breathe more accessible if you invest in more frequent power washing.
Mold, mildew, moss, and algae grow more readily in tropical or high-humidity areas. Consequently, consider more frequent power washing throughout the year to kill their spores and roots.
Soot and other debris often cover homes near busy highways or production facilities. As a result, annual cleaning is often insufficient for keeping those homes clean! Schedule power washing as often as needed to remove this buildup.
If you live near a lake or the ocean, you might notice sand and silt collecting on your home's exterior. Again, schedule pressure washing as many times as needed throughout the year to keep your property clean of this debris.
Outdoor kitchens and grills often mean smoke residue and ash settling onto a home's exterior. In turn, you might need more frequent power washing during summer to keep these residues from the building.
Lastly, consider one-time power washing when needed, such as before putting your house on the market. Exterior surfaces will look their best in marketing materials and for open houses after pressure washing! Also, remember that irritating odors, cobwebs, and other debris might put potential buyers off. Conversely, a clean and pristine exterior can entice them to take a good look at your home's interior.
Is pressure washing good for your house?
Amateur or DIY pressure washing risks damage to your house and other outdoor surfaces. One reason is that amateurs often use too much pressure, scratching, and etching materials. Two, letting detergents dry without proper rinsing creates a sticky residue. Your home might trap more dirt after your DIY washing than before!
Additionally, power washing pros also know how to clean exterior surfaces effectively. On the other hand, a homeowner might work for hours only to be disappointed with their results. You might also risk splattering dirt onto other surfaces, making a bigger mess than when you started.
In contrast, professional power washing is an excellent investment for your property. A professional knows how to clean your property quickly and without damage. Also, removing dirt and grime reduces the risk of damage to exterior surfaces. You also increase curb appeal when you schedule regular power washing!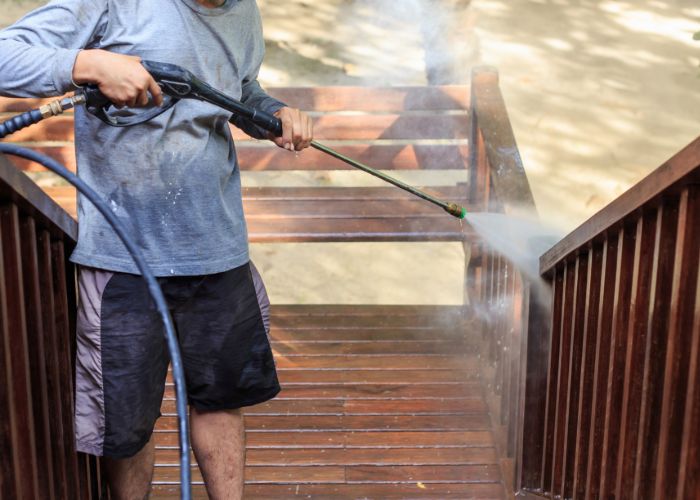 Can you power wash wood fences and decks?
Homeowners should avoid DIY wood deck and fence pressure washing, as it's easy to etch and crack wood surfaces. Also, some cleansers might dry out the wood, making it even more prone to cracking and chipping.
However, professional power washing is great for wood surfaces and materials! A trained contractor knows the best cleansers to use as well as techniques for a safe clean.
Additionally, professional power washing contractors ensure to rinse wood surfaces thoroughly to remove residues. They also know how to clean cracked or damaged areas without making that damage worse.
Also, a trained contractor might use specialty cleaners on mold, mildew, or infested areas. As a result, they will get those materials clean without damage or added mess. Removing mold also keeps it from spreading and causing even more damage.
Lastly, it's good to schedule pressure washing before refinishing those wood materials. A thorough cleaning removes dirt and grime that might interfere with stain or sealant application. Cleaning also means a better appearance once you've refinished that wood fence or deck.
Power wash all your home's outdoor surfaces
Power washing is not bad for your house! Professional power washing is an excellent choice for virtually every outdoor surface around your property. A professional might start with a specialty detergent for light cleaning when tackling delicate surfaces. Then, a lower-pressure rinse can wash away that dirt and grime without damage.
Additionally, pros know the right power washing tools for delicate materials such as asphalt shingles, screens, and glass. This might include low-pressure nozzles or devices designed to get into various cracks and crevices along those surfaces. A trained contractor can also typically clean wood surfaces, softened brick, or painted surfaces. Again, low-pressure nozzles and the proper techniques ensure a quality, damage-free clean.
While professionals know how to tackle delicate surfaces, they might apply added scrubbing to others! For instance, scrub brushes help loosen sand and silt ground into concrete surfaces. Heavy-duty scrubbing might also lift oily residues, spray paint, and other tough debris along driveways.
Talk to your contractor if you're unsure about power washing for various surfaces around your property. They can note if pressure washing might damage certain materials or if it will yield excellent results!
Southington Power Washers is happy to help answer the question, how often should you pressure wash your house? Hopefully, you found this information valuable and informative. If you're ready for expert services, call our Southington power-washing contractors. We offer FREE quotes and a customer satisfaction guarantee for every project. Our experienced power washing crew also ensures a safe, damage-free clean for your property. For more information or your no-cost consultation, call us right now!